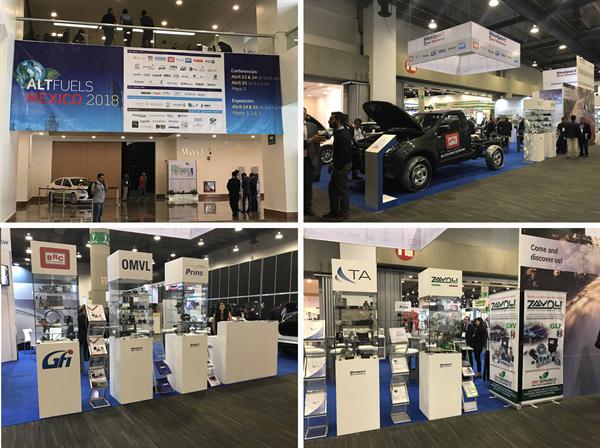 Alt Fuels Mexico – 24 and 25 April 2018
Full Range of Alternative Fuel Systems and Components Presented at AltFuels Mexico
May 2018, Westport Fuel Systems presented its full range of products at the AltFuels Mexico exhibition which took place on April 23-26, 2018 in Mexico City. The company showcased the latest technology for direct injection engines for compressed natural gas (CNG) and liquid petroleum gas (LPG), as well as diesel dual fuel technologies for liquid natural gas (LNG), CNG and LPG applications.
Products and technologies BRC displayed the Chevrolet S10 2017 with its SDI-2.0 CNG system and Prins displayed the Ford Focus SE 2017 with its VSI-2.0 DI LPG system. TA Gas Technology, OMVL, Zavoli and GFI highlighted CNG, LPG and hydrogen systems and components which are available for passenger car, light-, medium- and heavy-duty trucks, high horsepower, cryogenics, and CNG refueling markets.
Conference During the conference, various industry stakeholders presented the latest developments in alternative fuel technology. From the Westport Fuel Systems group, Mr. Luis Fernandez presented the advantage of Diesel dual fuel technologies for heavy-duty vehicles and Mr. Giuseppe Ruggiero spoke about direct injection technologies (CNG/LPG) for the next generation direct injection car engines.
Cristian Rossi, Area Manager, Westport Fuel Systems commented: "Mexico has more than 36 million vehicles and currently there are close to 15 thousand vehicles running on natural gas. Today 1 liter of natural gas is 8 or 8.50 pesos which is about 50% less than a liter of regular gasoline. We are just at a starting point and ready to expand our market share. Westport Fuel Systems has a market-ready portfolio of products for light-, medium- and heavy- duty vehicles. Exhibiting at AltFuels Mexico gave us the opportunity to reach out to our existing and future customers, meet face to face, and highlight our latest alternative fuel technology."
About Westport Fuel Systems: At Westport Fuel Systems, we are driving innovation to power a cleaner tomorrow. We are inventors, engineers, manufacturers and suppliers of advanced clean fuel systems and components that can change the way the world moves. Our technology delivers performance, fuel efficiency and environmental benefits to address the challenges of global climate change and urban air quality. Headquartered in Vancouver, Canada, we serve our customers in more than 70 countries with leading global transportation brands. At Westport Fuel Systems, we think ahead.
For more information, visit wfsinc.com. For more information on AltFuels Mexico, visit altfuelsmexico.com.
More information regarding this release: Angelique Berden Marketing Director Westport Fuel Systems Automotive.Marketing@wfsinc.com