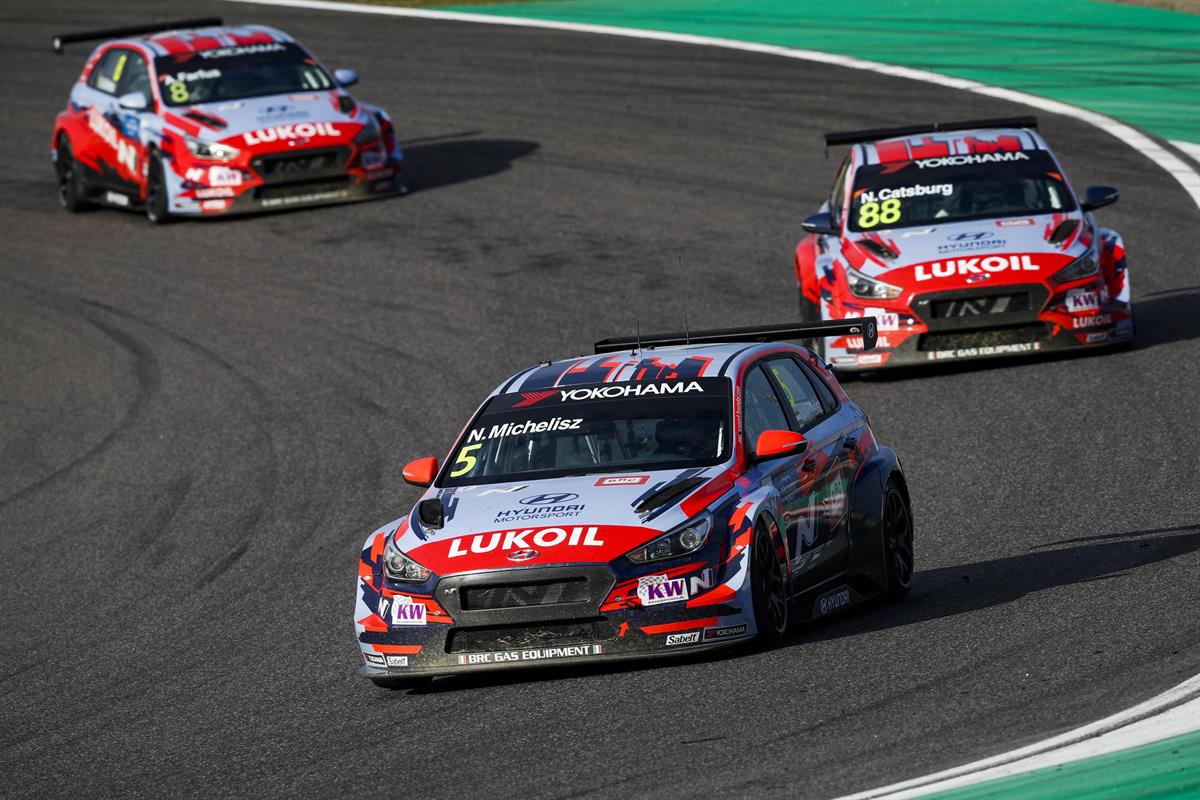 BRC Racing Team all set for majestic Macau
As an enthralling season nears its close, BRC Racing Team is all set to tackle the penultimate round on the 2019 WTCR – FIA World Touring Car Cup calendar, Race of Macau.
Taking place this weekend (14-17 November) at one of the most challenging street circuits in the world, WTCR Race of Macau will see drivers go wheel-to-wheel on the 6.120km Circuito da Guia. Featuring tight and twisty turns alongside long, wide straights, the track is infamous for its unforgiving nature.
Only 12 months ago, Macau played host to the exciting seven-way title showdown in which BRC Hyundai N Squadra Corse driver Gabriele Tarquini emerged victorious. This year, his teammate Norbert Michelisz sits in touching distance of the lead of the drivers' championship while the squad has closed the gap to remain in contention in the teams' battle after a strong weekend in Suzuka.
WTCR Race of Japan resulted in victory and a double podium in Race 2 for Michelisz and Tarquini. Michelisz now has a deficit of six points in the drivers' standings with the team only 13 points behind. BRC Hyundai N LUKOIL Racing Team drivers Augusto Farfus and Nicky Catsburg were hampered by their qualifying positions set during treacherously wet sessions but managed to make progress through the field in the dry races.
With only two rounds of the season remaining, BRC Racing Team is aiming for another strong outing across all four cars. Tarquini, Michelisz and Catsburg all boast previous experience of mastering Macau. Hyundai Motorsport Customer Racing Junior Driver Luca Engstler, who is deputising for Augusto Farfus this weekend, will pilot the #6 Hyundai i30 N TCR car on his debut at the Circuito da Guia.
Action at WTCR Race of Macau begins with two practice sessions on Thursday 14 November. Friday will feature both qualifying rounds, with Race 1 (8 laps) taking place on Saturday and Races 2 (8 laps) and 3 (11 laps) fought on Sunday.
Team Principal of BRC Racing Team Gabriele Rizzo said: "Macau was the scene of great celebration for our team just 12 months ago. We now find ourselves returning for the penultimate race of the season in contention for both the teams' and drivers' championships. We know we have a long way to go and we have been working hard to ensure we have the strongest weekend possible. A bad round now could lose the championship, so we have to keep the focus on the task at hand."
BRC Hyundai N Squadra Corse driver Norbert Michelisz said: "Macau is one of my favourite places. I won my first race in world touring cars there and it is a very special place to go. It's one of the most demanding circuits and I think we will have a good car this weekend, so I'm really looking forward to it."
Teammate Gabriele Tarquini said: "Race of Macau is always a lottery; you can never predict what is going to happen. I think this year we have some good luck as it is not the last race, as I know it is a very tough place to fight for the championship. We can approach this race thinking ahead to Malaysia as well. We need to score points as well and Norbert is very fast in Macau, so hopefully we can also improve our position in the teams' standings."
BRC Hyundai N LUKOIL Racing Team driver Nicky Catsburg said: "Race of Macau is one I'm looking forward to a lot, but also the one I'm not looking forward to! It's a unique place and the circuit can be unforgiving but it's such a cool challenge. I'm always a little bit concerned about my speed there, but I will keep trying and we will see what happens."
Luca Engstler said: "Macau is definitely the biggest challenge of the year for me. After winning the title in Malaysia, twice in Asia, and in the Middle East I'm really looking forward to it. I have trained a lot and spent hours in the simulator preparing as I have never driven there before. It will be amazing and a lot different when you sit in the car for the first time. FP1 is calling and I will try to do my best."
Race of Macau overview
Race 1: Saturday 16 November 14:55 – 15:20 CST (8 Laps)
Race 2: Sunday 17 November 08:45 – 09:10 CST (8 Laps)
Race 3: Sunday 17 November 11:25 – 11:55 CST (11 Laps)