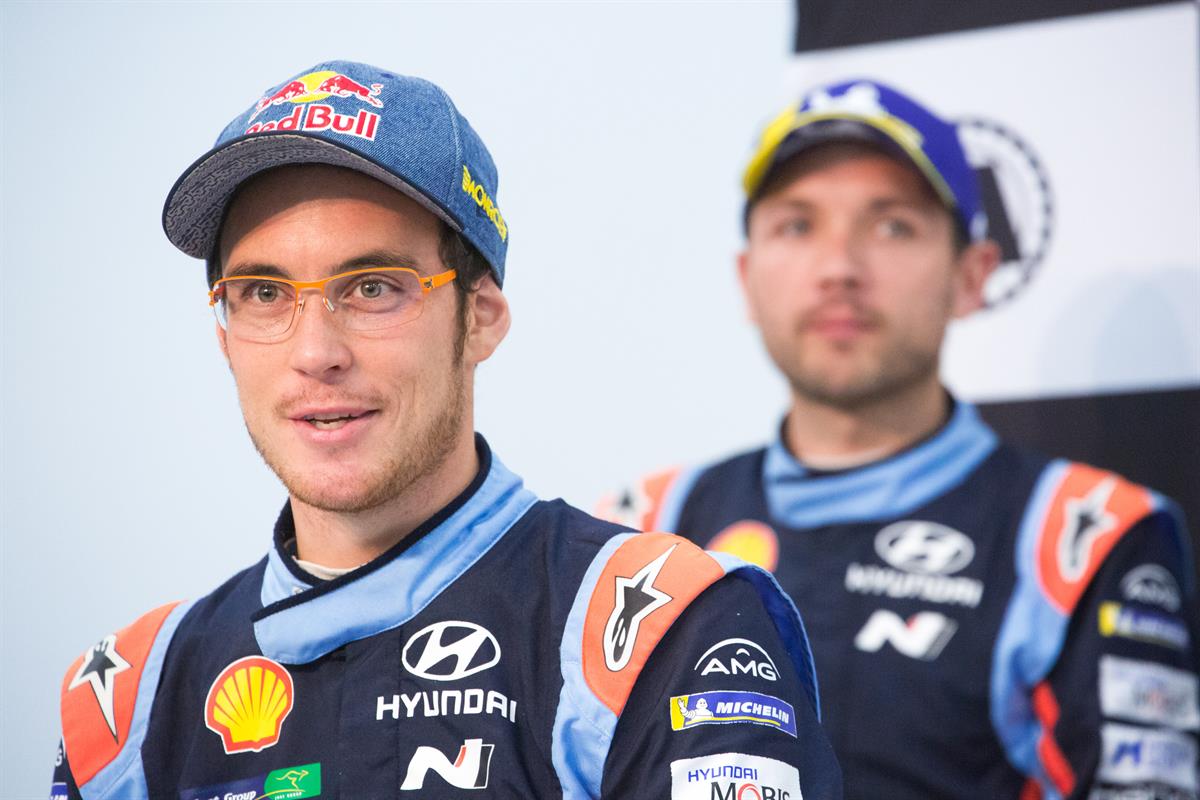 BRC side by side with Thierry Neuville at 2019 Rally Legend
Belgian champion and Hyundai i20 Coupe WRC official driver, Thierry Neuville, currently running the world rally championship, will participate in the San Marino event scheduled from October 10th to 13th.
Alongside longtime co-driver Nicolas Gilsoul, Neuville will compete in the World Rally Car category, with a Hyundai i20 Coupe WRC entered by Hyundai Motorsport especially sponsored with BRC Gas Equipment.
Thierry Neuville comments: "I'm really looking forward to racing at Rally Legend. It's a fantastic show, with a large audience. To me, it will be an opportunity to prepare for the last rounds of the WRC season, an incredibly hard-fought championship, in which we are doing everything to further improve".
Massimiliano Fissore, CEO at BRC, says: "Rally Legend will see the debut of a Hyundai i20 Coupe WRC, and this will catalyze the attention of enthusiasts and fans at the event. For us, the union with Hyundai and Thierry, besides being a source of pride, will be a very important showcase from a marketing point of view. We have always believed in motorsport for the promotion of our brand and technology".
Thierry Neuville, who won Corsica and Argentina Rally earlier this year, is currently 3rd in the WRC driver title chase and contributing to support Hyundai with his team mates to fight for the manufacturers championship.
Rally Legend 2019 general overview:
Thursday October 10th 2019
8:30 AM – 12:30 PM "Piandavello", "La Casa" and "I Laghi" Special Stages reconnaissance
8:30 AM – 9:00 PM Rally Legend Village opening
11:00 AM – 6:30 PM Sport verification
11:15 AM – 6:45 PM Technical verifications
12:30 PM – 3:30 PM "The Legend" Special Stage reconnaissance
3:30 PM – 6:30 PM "Piandavello", "La Casa" and "I Laghi" Special Stages reconnaissance
7:30 PM "The Legend Parade" –2018 Rally Legend Top Drivers presentation
9:45 PM – 11:45 PM "Le Tane" and "San Marino" Special Stages reconnaissance
Friday October 11 th 2019
8:30 AM – 1:30 PM Rally Legend Village opening
10:00 AM – 2:00 PM Shakedown – Venue "I Laghi" - San Marino (RSM)
12:30 PM – 2:30 PM Car entrance in Olympic Stadium for start
2:45 PM – 6:30 PM Walkabout in Serravalle's Olympic Stadium
7:00 PM Start day 1
11:30 PM Arrival day 1
Saturday October 12 th 2019
8:30 AM – 11:30 PM Rally Legend Village opening
9:00 AM – 12:00 PM Walkabout in Serravalle's Olympic Stadium
1:00 PM Start day 2
6:30 PM Arrival day 2
Sunday October 13 th 2019
9:00 AM – 5:00 PM Rally Legend Village opening
10:00 AM Start day 3
2:00 PM Arrival day 3 –
Award ceremony at Rally Legend Village {C}