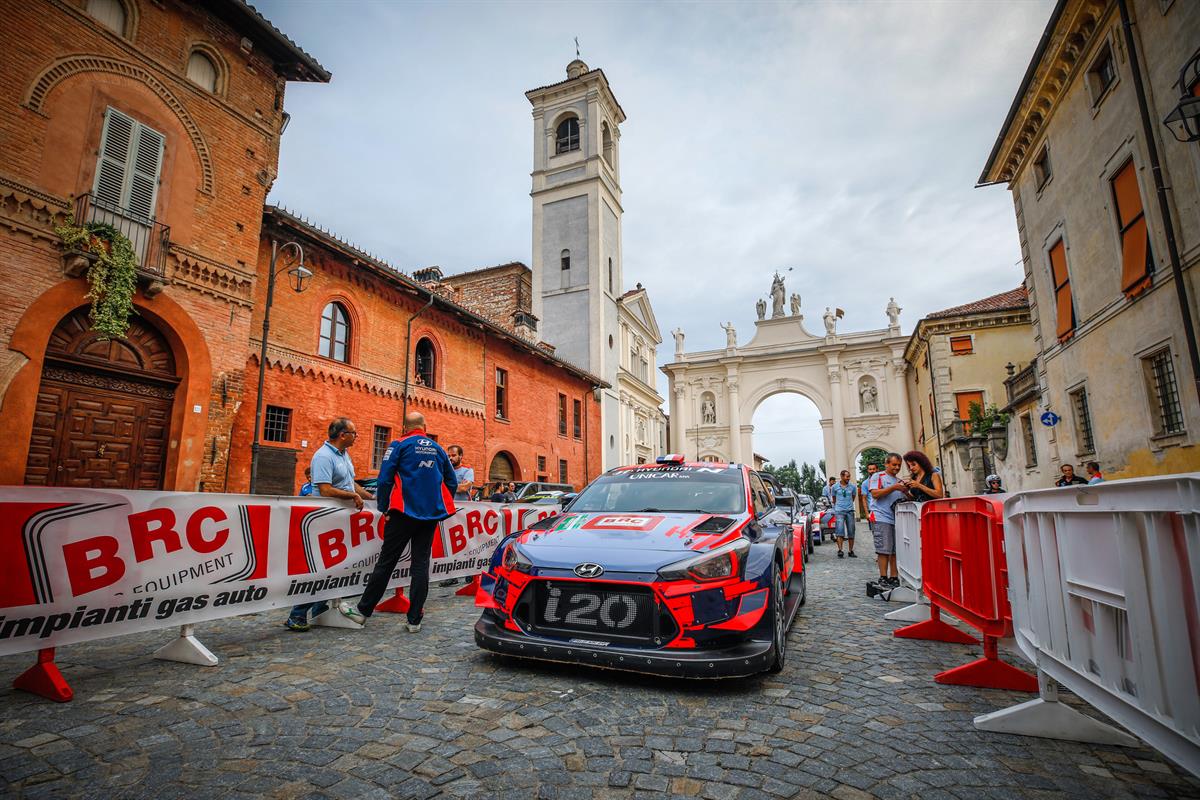 BRC Gas Equipment and the City of Cherasco are ready to welcome "Rally di Alba"
The 2020 race will start from the historic city center
The upcoming Rally di Alba, scheduled for next August 1st and 2nd on the fascinating roads of the Langhe territory, will be a particularly important edition.
The race, organized by Cinzano Rally Team, is the first event of the Italian WRC Championship and the return of high level competitions. The most prestigious teams, such as Hyundai Motorsport, have already confirmed their participation with a strong lineup of worldwide known drivers, like the world champion Ott Tänak and the recent Monte Carlo Rally winner, the Belgian Thierry Neuville. On the starting line with BRC Racing Team also the Spanish Daniel Sordo and the Irish Craig Breen.

BRC Gas Equipment, which has been alongside the organizers for years, and the City of Cherasco, will play a key role in the success of the event.

Saturday, August 1st , the Cherasco company's facilities will host the service park for all cars performing the shakedown taking place from 8.00 AM to 5.30 PM in the stretch of road that connects the industrial area to the San Bartolomeo hamlet. At the same time will take place the technical and sporting checks for all teams.

At 6.00 PM all race cars will move from Via Industria to the historic center of Cherasco. Cars will be positioned in "via Vittorio Emanuele" and "Piazza dell 'Arco di Belvedere" from 6.30 PM.
At 6.00 PM the BRC Racing Team Village will be officially opened in Via Garibaldi, to celebrate the team's 10 years of activity and success all over the world. A limited access photographic exhibition will trace the exploits of drivers, cars and men who have made motorsport history.

The audience will be waiting for the first car start at 8.01 PM from the platform located in front of the Town Hall with a background DJ-set. Car starts will take place every minute until around 10.00 PM. In the meantime, show orchestra I ROERI will perform from 9.00 PM in front of Palazzo Salmatoris. The audience can attend the show in regularly spaced seats.

The race will continue on August 2nd with three special stages, repeated three times: the 17,140 km "Igliano" stage, the 10,450 km "Lovera" stage and finally the 6,200 km "Niella-Bossolasco" stage with arrival in "Piazza Cagnasso" in the city of Alba.